(Please include in your listings!)
GRAPHICALLY SPEAKING 2008, with Kazu Kibuishi & Kean Soo
Tuesday February 5th @ 6:30pm
North York Central Library, Concourse Level
@ North York Subway Station
FREE
Presented in association with THE BEGUILING and Scholastic Canada
The two co-editors of the fantastic FLIGHT Anthologies, Kazu Kibuishi and Kean Soo will be in town to debut their brand new graphic novels AMULET and JELLABY. This event is part of the Toronto Public Library's massive Keep Toronto Reading campaign! Both Kean and Kazu will be interviewed on stage by … me? "The Beguiling's Christopher Butcher," in the vein of last year's event with Bryan Lee O'Malley. One assumes that signing and sketching will follow the event…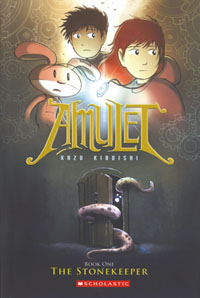 AMULET VOLUME 1: In the tradition of action adventure series like BONE and The Chronicles of Narnia comes AMULET, by Kazu Kibuishi and published by Scholastic Books. I've read this one and really enjoyed it, I particularly think it's target audience is going to love it. It feels like another application of "Video game storytelling" which is either a pejorative, compliment, or accurate descriptor depending on who's using the term. At any rate, I've got a whole whack of questions for Kazu already…
JELLABY VOLUME 1: When Portia hears strange noises in the woods behind her house, the last thing she expects to find is a giant purple dragon named Jellaby! Published by Hyperion books, Jellaby is by my buddy Kean and Tuesday the 5th is the OFFICIAL RELEASE DATE FOR THE BOOK! You know what that means: Party! At any rate, I've read the advance of this first volume and enjoyed it, and it's received some pretty outstanding reviews so far. I think the kids are really gonna dig it.
This is going to be a very fun event which will actually be of interest to all-ages, from younger readers captivated by these new graphic novels right through to adults who loved the FLIGHT anthologies. We're also really proud to be teaming up with The Toronto Public Library again this year, bringing graphic novels to the masses and the masses into our public library system. If you're in Toronto, we hope you won't miss this event. We may even be able to secure punch and pie for you.
Join the Keep Toronto Reading group on Facebook!
http://www.facebook.com/group.php?gid=19746872808
RSVP to the event on the Kazu & Kean Facebook Page!
http://www.facebook.com/event.php?eid=8322672055
NEW: Kazu Kibuishi and Kean Soo will be signing copies of their new books AMULET and JELLABY at The Beguiling from 5pm to 7pm on Wednesday, February 6th (the day after the Keep Toronto Reading event). We'd still like everyone to attend that one though, as it's going to be the main event!
– Christopher