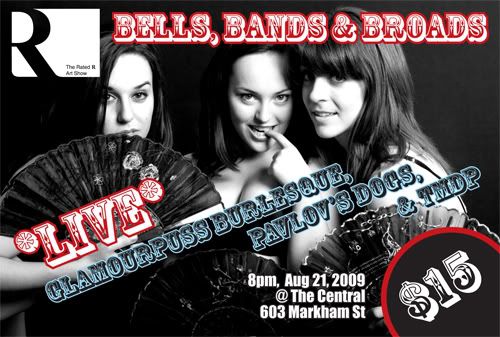 PLEASE INCLUDE IN YOUR EVENT LISTINGS
The Rated R Show presents…
BELLS, BANDS & BROADS
A BURLESQUE FUNDRAISER
Featuring Glamourpuss Burlesque, Pavlov's Dogs, and TMDP
Friday August 21st, 2009, 8pm-1am
at THE CENTRAL Bar & Restaurant, 603 Markham Street
ADMISSION $15
Toronto, Canada: Get ready for an evening of fabulous burlesque and amazing entertainment, as The Rated R Show will be presenting "Bells, Bands & Broads" a burlesque fundraiser in support of its fall art show. A salacious and sensual evening of entertainment in support of a salacious and sensual art show—what more could you want from a Friday night in Toronto?
"Bells, Bands & Broads" features performances by Glamourpuss Burlesque – 'putting the ass back in class' – and a DJ set from electronic duo TMDP, blending electro, disco, progressive house and 80s pop. There will be music from Pavlov's Dogs, a unique English handbell quintet determined to show the world just how hard handbells can rock, and magician James Harrison will be engaging the crowd throughout the night. A silent auction features prizes provided by sponsors and artists for the Rated R Show.
"Bells, Bands & Broads" goes down Friday, August 21st, 2009 at The Central, 603 Markham Street, Toronto. Doors at 8pm. Tickets are $15 at the door, and can be purchased in advance through media@ratedrshow.com.
The Rated R Show is made possible thanks to the support of The Beguiling, The Central Bar & Restaurant, the AIDS Committee of Toronto, YYZ Records, Pomophobe Productions, Canvas Creative Solutions, and Glamourpuss Burlesque.
MEDIA:
For more information on "Bells, Bands & Broads" or The Rated R Show, contact organizers Eric Kim and Mara Sternberg at 647-222-3009 or media@ratedrshow.com. Please visit our website, http://ratedrshow.com
ABOUT:
The Rated R Show is a gallery showcase for Toronto artists to tackle a variety of adult subjects, from the horrific to the erotic, and everything in between. It includes work from a wide range of photographers, fine artists, video game and comic book artists. The Rated R Show runs September 18th to October 1st at the Gladstone Hotel Art Bar. Opening night September 18th, coinciding with the Queen West Art Crawl.