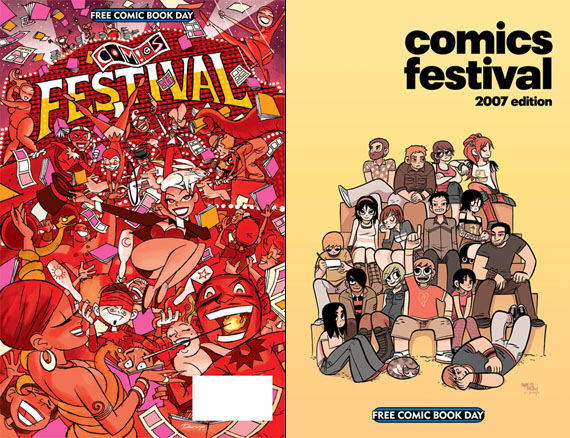 FREE COMIC BOOK DAY @ THE BEGUILING (Updated)
Featuring a bunch of great comics creators!
Saturday, May 5th, 12Noon-6pm
The Beguiling, 601 Markham Street (Just around the corner from Bloor & Bathurst)
FREE!
For the third year in a row, The Beguiling is proud to present it's own special contribution to FREE COMIC BOOK DAY! Just come by the store on Saturday May 5th between noon and 6pm, and receive free comics! Choose up to 5 comics per person, from dozens of different publishers! The whole event will occur in front of the store (if the weather holds…) and will feature over a dozen local comics creators who will be signing books and sketching for fans throughout the day! The schedule of appearances includes:
All Day!
Roxanne Bielskis (Torontoist.com, Poverty)
Michael Cho (Max Finder)
Jason Kieffer (Downtown Toronto, BlogTo.com)
Cameron Stewart (The Other Side)
Zach Worton (Corpse)
Jim Zubkavich (Makeshift Miracle, UDON Comics)
Noon-3PM Only:
John Martz (Drawn.ca)
Brian McLachlan (Princess Planet)
Jim Munroe (Therefore, Repent!, No Media Kings)
Ryan North (Dinosaur Comics)
Kean Soo (Jellaby)
3PM-6PM Only:
Ray Fawkes (Apocalipstix)
J. Torres (Teen Titans GO!, Legion of Super-Heroes)
Howie Shia (Comics Festival 2007!)
Chip Zdarsky, author of PRISON FUNNIES, MONSTER COPS, and without whose valuable assistance, COMICS FESTIVAL! 2007 would not have been possible.
In addition, we'll be giving away copies of COMICS FESTIVAL 2007, a brand new comic that features new comic strips from pretty-much everyone attending our Free Comic Book Day event, as well as new material from Darwyn Cooke, Hope Larson, Bryan Lee O'Malley, and many more creators!
For more on Comics Festival, check out http://comics212.net/2007/03/06/comics-festival-2007-final-line-up/.